AKUT 2: The Drop
af Anne Munnecke
Anden udstilling i c4 projects COVID-19 sommerprogram: AKUT 1, 2, 3, 4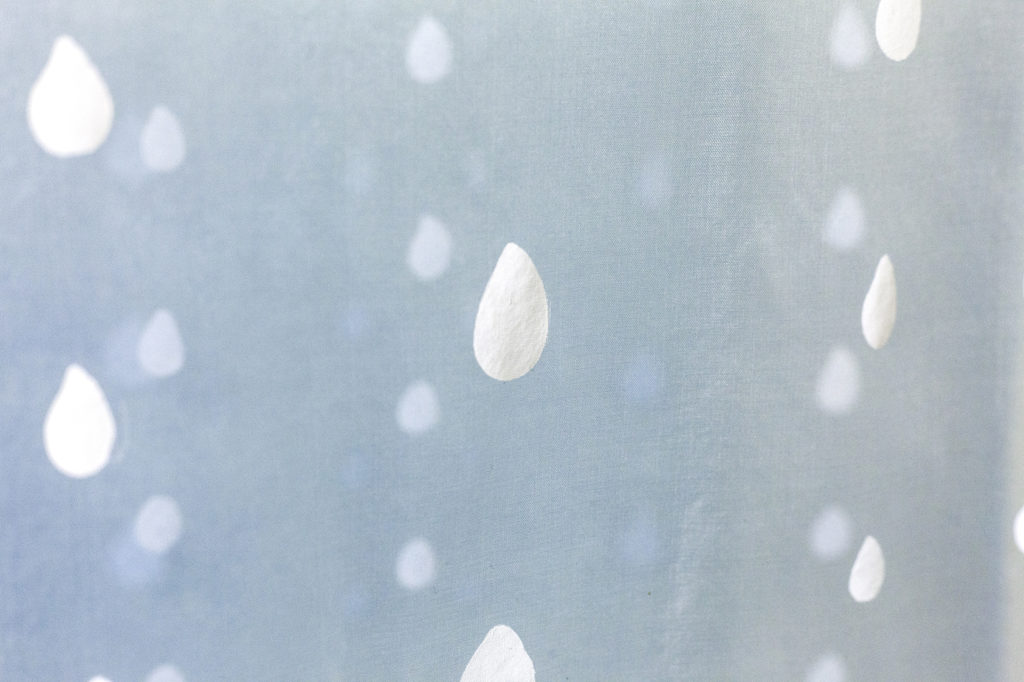 Fernisering: Fredag d.17 juli 17.00 – 20.00
Udstillingsperiode: 18 juli – 29 juli 2020
Åbningstider: 24/7, vinduesudstillingen kan ses fra Dybbølsgade
The Drop er en collage af silkemalerier; en abstrakt geometrisk fortolkning af vanddråber i frit fald.
En dråbe er en lille kugleformet væskemængde, holdt sammen af overfladespænding.
Regn falder fra skyerne når de bittesmå vanddråber som skyerne består af, samler sig og bliver så store og tunge, at de ikke længere kan holde sig svævende. Regn er desuden slet ikke dråbeformet; det er kun når en vanddråbe hænger fra en fast genstand, som f.eks. en vandhane, at den får sin velkendte repræsentative tåre-form.
The Drop er en fortolkning og fastfrysning af et fænomen og en meditation over dråben som form og enhed.
Anne Munnecke er uddannet fra Det Fynske Kunstakademi og Akademie der Bildende Künste Wien i 2012.
Hun arbejder med tekstiler, tegning, maleri og papir. Hendes værker er meditative og sanselige med fokus på farver og teksturer. Men de refererer også til kulturelle systemer og mønstre, naturvidenskab og geometri, esoterisk tradition og populærkultur.
c4 projects er et kunstnerdrevet udstillingssted i København, der præsenterer et mangfoldigt udsnit af den nyeste samtidskunst.
Grundet COVID-19 har c4 projects valgt at udskyde alle planlagte udstillinger til og med august.
I stedet har vi besluttet at lave vores store facadevindue om til en udstillingsmontre med fire akutte soloudstillinger hen over sommeren. Udstillingerne kan opleves døgnet rundt udefra fortovet på Dybbølsgade 60.
Alle udstillingerne i AKUT 1, 2, 3, 4 programmet har subtile referencer til COVID-19 pandemien. På forskellige måder kommenterer de på pandemiens indvirkning på menneskelige relationer og/eller taler ind i globaliseringen, industrialiseringen og menneskets rovdrift på jordens ressourcer og hvordan de faktorer har skabt det ideelle grundlag for en pandemi.
For mere information skriv til info@c4projects.dk eller ring på tlf. 26142332.
c4 projects er venligst støttet af Statens Kunstfond, Københavns Kommunes Billedkunstudvalg, Det Obelske Familiefond og Beckett Fonden.
//English//
AKUT 2: The Drop
An exhibition by Anne Munnecke
Second exhibition of the c4 projects COVID-19 summer programme: AKUT 1, 2, 3, 4
Opening: Friday 17th of July 5-8 pm
Exhibition period: 18th of july – 29th of July 2020
Opening hours: 24/7, the exhibition can be seen from the curb of Dybbølsgade 60
The Drop is a collage of silk paintings; an abstract geometric interpretation of water droplets falling. A drop is a sphere of liquid held together by surface tension.
When a drop exceeds a certain size it is no longer stable and detaches itself: For example raindrops forming and falling from the water vapor of clouds. However, raindrops are not tear-shaped. Only drops hanging from a firm surface, like a tap, are shaped in this representative form.
The Drop is an interpretation of a phenomenon and a meditation of the drop as a shape and unit.
Anne Munnecke graduated from The Funen Art Academy in 2012, and she also studied at the Akademie der Bildende Künste Wien in 2010-2011.
She works in textiles, drawing, painting and collage. Her works are often meditative and sensuous with a focus on texture and colour but they also refer to concepts of cultural systems and patterns, natural sciences and geometry, esoteric traditions and popular culture.
c4 projects is an artist run exhibition space in Copenhagen. We organize and curate exhibitions that present extracts of the newest contemporary art. Due to COVID-19 we have postponed our planned program until the end of August. Instead we have transformed our façade window into a temporary display, showcasing four acute exhibitions over the summer.
The exhibitions can be viewed from the curb outside Dybbølsgade 60.
All the exhibitions in our AKUT 1, 2, 3, 4 programme has subtle references to the COVID-19 pandemic, commenting on the impact of the pandemic affecting our social relations and/or our relationship with nature and natural resources of the earth; touching on how globalisation, industrialisation and overexploitation is an ideal breeding ground for a pandemic.
c4 projects is supported by the Danish Arts Foundation, The Copenhagen Municipality's Council of Visual Arts, The Obelske Family Foundation and The Beckett Foundation.