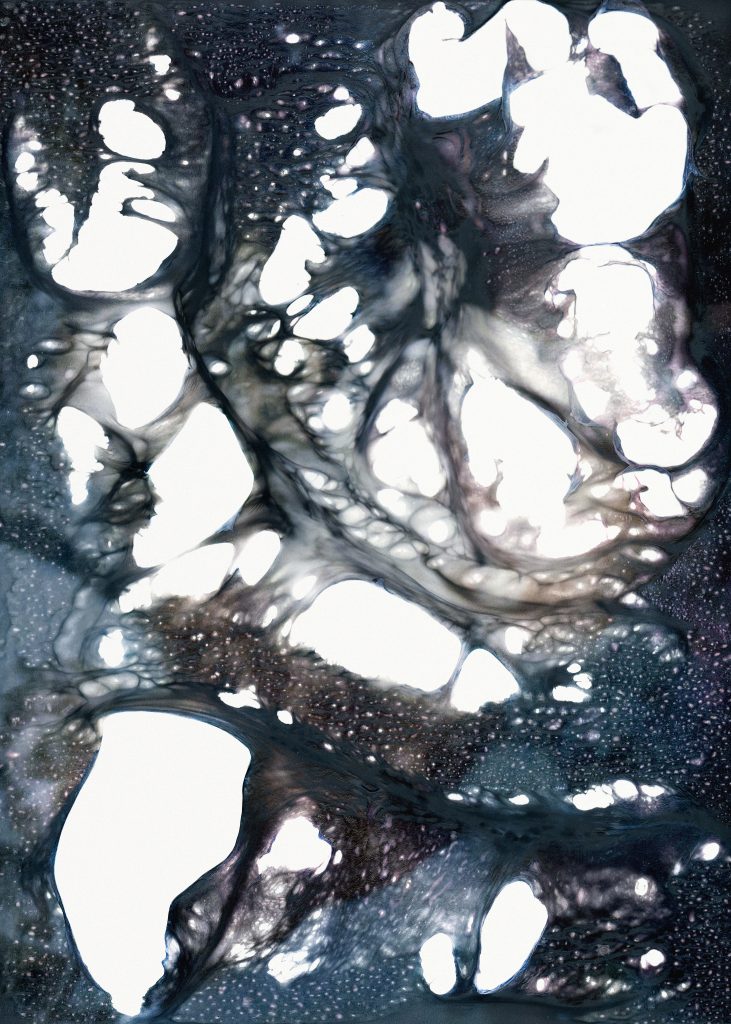 HEAT 
En udstilling af Sofie Amalie Klougart
Fernisering: Fredag 21/6 kl. 17-21
Udstillingsperiode: 22/6-6/6
Åbningstider:
Lørdag 22/6 kl. 14-17
Torsdag 27/6 kl. 14-17
Fredag 28/6 kl. 14-17
Lørdag 29/6 kl. 14-17
Torsdag 4/7 kl. 14-17
Fredag 5/7 kl. 14-17
Lørdag 6/7 kl. 14-17
"For år tilbage kom jeg i besiddelse af et større antal fotoalbum og dagbøger fra en for mig ukendt person. Erhvervelsen satte mig i et dilemma, da jeg var fascineret af materialet og følte, det fortjente et efterliv, men samtidig ikke kunne publicere det af hensyn til det personfølsomme indhold. Jeg begav mig til at undersøge, hvordan jeg kunne anonymisere materialet, men jo længere tid jeg arbejdede med indholdet, jo større moralske kvaler fik jeg.
Udstillingen viser fotografierne i en form for grænsetilstand i deres kunstige nedbrydelsesprocess. De viser motiver fra fotoalbummene, som jeg har udsat for varme, hvorfor emulsionen har trukket sig sammen til tilnærmelsesvis abstrakt form. En skæbne albummene ville have mødt, om de var gået til forbrændingen".
Lydinstalation: HEAT, 7.21 min.
Optaget i Notam. Norge.
Lyddesign: Mads Kjeldgaard
Speak: Jason Havneraas
Sofie Amalie Klougart er en dansk kunstner og fotograf, der bor og arbejder i Oslo. Hun er uddannet fotojournalist fra Danmarks Medie og Journalisthøjskole i 2013 og bevæger sig i spændingsfeltet mellem journalistik og billedkunst. Hun har modtaget en lang række priser, herunder flere ved uddelingen til 'Årets Pressefoto', og deltaget i adskillige udstillinger, blandt andet Forårsudstillingen på Charlottenborg samt med en soloudstilling på Fotografisk Center. Se mere: sofieamalieklougart.dk
//
English
HEAT 
An exhibition by Sofie Amalie Klougart
Vernissage: Friday june 21. 5-9 pm.
Exhibition period: June 22. . july 6.
Opening hours:
Saturday June 22. 2-5 pm.
Thursday June 27. 2-5 pm.
Friday June 28. 2-5 pm.
Saturday June 29. 2-5 pm.
Thursday July 4. 2-5 pm.
Friday July 5. 2-5 pm.
Saturday July 6. 2-5 pm.
"Some time ago a stranger's photo album and diaries came into my possession. The sensitive nature of its contents facinated me and I felt it deserved an afterlife. I started exploring how I could anonymize the material but the longer I worked on it's content the bigger my moral qualms became. The exhibition shows photographs in a sort of border state in their artificial disintegration process. They show motives from the photo albums that I exposed to heat, causing the emulsion to withdraw to an abstract form. A destiny the photographs would have met if they had ended up in an incinerator."
Soundinstallation: HEAT, 7.21 min.
Recorded at Notam, Norway.
Sound-engineer: Mads Kjeldgaard
Speak: Jason Havneraas.
Sofie Amalie Klougart is a danish photographer and artist, living and working in Oslo. She had her BA in photo journalism from the Danish School of Media and Journalism in 2013 and operates in the field between journalism and fine art. She has received a number of awards including several at the award for 'Press Photo of the Year' and participated in various exhibitions, among other 'The Spring Exhibition' at Charlottenborg and
with a solo exihibition at Fotografisk Center. For more information see: sofieamalieklougart.dk