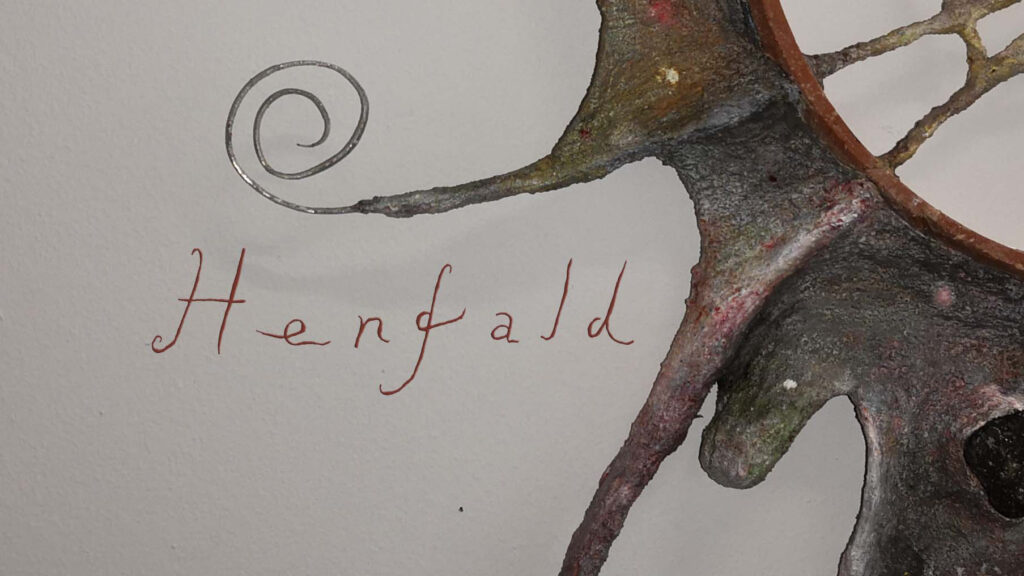 Henfald
– en udstilling af Christian Aagaard Ovesen
Fernisering: Fredag d. 30. september kl. 17-20
Udstillingsperiode: 1. oktober – 4. november 2022
Udstillingen er åben torsdag, fredag og lørdag kl. 14-17
Henfald er en udstilling, som tager sit afsæt i planter og organismers forgængelighed samt deres evner til altid at kunne spire frem igen – både i skovbunden, mellem fliserne på fortovet og på byggepladser.
Henfaldsprocesser, hvor stof bliver opløst og forvitret over tid, muliggør nye former for liv og materialer i kølvandet på det døde. I sin praksis skaber Ovesen scenarier inspireret af disse processer. Her er naturen dog en sløret størrelse. Velkendte nedbrydelsesprocesser går i forbindelse med den ophobning af affaldsmaterialer, som findes i naturen. Plast finder vej ind i hver enkelt celle, og imaginære livsformer vækkes til live i nye konstellationer og mutationer. Værkerne fungerer som en slags fremtidsfossiler, som balancer et sted mellem det levende og det døde, mellem det organiske og det menneskeskabte.
Til udvikling af værker bruger han nogle af de metoder, som han har tillært sig i sin tid som klippebygger i zoologiske haver og akvarier. Det meste er genbrugsmaterialer fundet på byggepladserne i zoo og på gåture rundt omkring i byen.
Christian Aagaard Ovesen er bosat i København og har taget sin BA på Bergen Kunstakademi i 2018 og i 2021 færdiggjorde han en MFA fra Piet Zwart Institute i Rotterdam. Udstillingen er kurateret af Camilla Reyman og er generøst støttet af Statens Kunstfond, Beckett Fonden, Augustinus Fonden, Ny Carlsbergfondet og Vesterbro Lokaludvalg.
ENGLISH
Henfald (disintegration, decomposition)
– an exhibition by Christian Aagaard Ovesen
Vernissage: Friday September 30 at 5 pm
Exhibition period: October 1 – November 4 2022
Opening hours: Thursday, Friday and Saturday 2 pm – 5 pm
Henfald takes its inspiration from the impermanence of plants and organisms as well as from their ability to thrive under any condition – on the forest floor, between the sidewalk tiles and at construction sites.
Processes of disintegration, where matter decomposes and crumbles over time, make new life forms and materials possible in the wake of death. In his practice Ovesen creates scenarios inspired by these processes. Though here nature has a more blurry figure. Well known processes of decomposition are combined with the accumulation of waste material that can be found in nature. Plastic finds its way into every single cell and imaginary life forms are brought to life in new constellations and mutations. The pieces serve as some kind of future fossils that balance between the living and the dead, between the organic and the artificial.
To develop the pieces he draws upon some of the methods that he learned when he was building fake rocks in zoos and aquariums. Most of the materials are second-hand and found at construction sites, in the zoo and walks around the city.
Christian Aagaard Ovesen lives in Copenhagen and did his BA at Bergen Art Academy in 2018 and in 2021 he obtained an MFA from Piet Zwart Institute in Rotterdam. The exhibition is curated by Camilla Reyman and is kindly supported by Statens Kunstfond, Beckett Fonden, Augustinus Fonden, Ny Carlsbergfondet and Vesterbro Lokaludvalg.