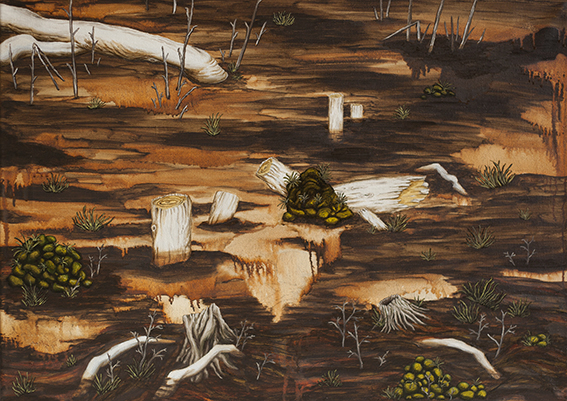 Hjemkomst/vildfarelse
En udstilling af Michael Isling
Fernisering: Fredag d. 15 juni kl. 17-20
Udstillingsperiode: 16.6–23.6 2018
Åbningstider: Torsdage og fredage kl. 15-18, lørdage kl. 14-17
I de seneste 5 år har Michael Isling boet en del af sommeren, i den skov han er opvokset i udkanten af. Det er i perioder på tre til fire uger ad gangen og primitivt med telt og bål. Her laver han værker.
Et ophold i skoven er på en gang en hjemkomst og en vildfarelse.
En hjemkomst da størstedelen af Islings barndom foregik i -eller i umiddelbar nærhed af, denne skov. Det var der han mødtes med vennerne, og senere i puberteten, der man havde fest og de første stævnemøder. Men også en vildfarelse fordi han her holder pause fra den civiliserede verden. Her er intet internet, ingen strøm og kun få distraktioner.
At skabe sine værker i skoven er forbundet med besværlighed. Tordenfluer der angriber en klat orange maling. Lærred der blæser omkuld så flere dages arbejde bliver tværet ud af en gren. Et kamera der får fugt, eller ganske simpelt løber tør for strøm midt i en optagelse.
Men i alt besværet ligger et andet nærvær, en anden energi og en anderledes opmærksomhed på omgivelserne. For Isling er denne udvidede skovtur en personlig genskabelse af den forbindelse til naturen, vi ofte mister i et urbant landskab. Det er et åndehul, der bliver trukket veksler på resten af året.
Hjemkomst og vildfarelse er omdrejningspunktet for hans udstilling hos c4 projects, hvor samtlige værker er lavet/optaget i skoven indenfor de seneste 3 år.
Michael Isling (f. 1978) er uddannet på Det Fynske Kunstakademi 2003–2008 samt på Det Kongelige Danske Kunstakademi 2005-2006. Han har haft solo-udstillinger på blandt andet Det Fynske Kunstmuseum, Kunsthallen Brandts i Odense og i Århus Kunstbygning. Han står endvidere bag gavlmaleriet The Beanstalk på H.C. Ørstedsvej, København.
//English//
Homecoming/Bewildering
An exhibition by Michael Isling
Opening: Friday the 15th of June 5-8 pm.
Exhibition period: 16.6-23.6 2018
Opening hours: Thursdays and Fridays 3-6 pm, Saturdays 2-5 pm.
For the past 5 years Michael Isling has been living for part of the summer, in the forest, which he grew up in the outskirts of. It has been for periods of three to four weeks in a row, primitively, with a tent and a fire. Here he creates artworks.
A stay in the forest is at the same time a homecoming and a bewildering.
A homecoming, since the greater part of Isling's childhood was spend in, or very close by, this forest. Here he met up with friends, and later in adolescence, had parties and the first dates. But also bewildered, because here, he takes a break from the civilised world. Here is no internet, no electricity and not many distractions.
To create artworks in the forest can be a troublesome affair. Thunder flies attack a paint blob. A canvas gets
knocked over by the wind and days of work are smeared by a branch. A camera gets moisture, or simply runs out of power in the middle of a take.
But at the centre of all the troubles lies a certain presence, a different energy and a different awareness of the surroundings. For Isling, this expanded trip to the forest is a personal recreation of the connection with nature, we often loose in an urban environment. A breathing space, which effects are drawn upon for the rest of the year.
Homecoming and bewildering are the arcs of and the title of his exhibition at c4 projects, and all of the works have been made/recorded in the forest within the past 3 years.
Michael Isling (b. 1978) is educated at Funen Art Academy 2003-2008 and The Royal Danish Academy of Fine Arts 2005-2006. He has had solo exhibitions at Funen Art Museum, The Brandts Collection in Odense and Kunsthal Aarhus. Furthermore he is behind the mural The Beanstalk at H.C. Ørstedsvej, Copenhagen