En soloudstilling af Camilla Vuorenmaa
Fernisering: fredag d.5.december kl. 17-21
Udstillingsperiode: 6. December-21. december, 2014
Åbningstider: torsdag-fredag 15-18, lørdag-søndag 14-17
I åbningsweekenden er der dog åbnet til kl 18 både lørdag og søndag, hvor kunstneren også vil være til stede.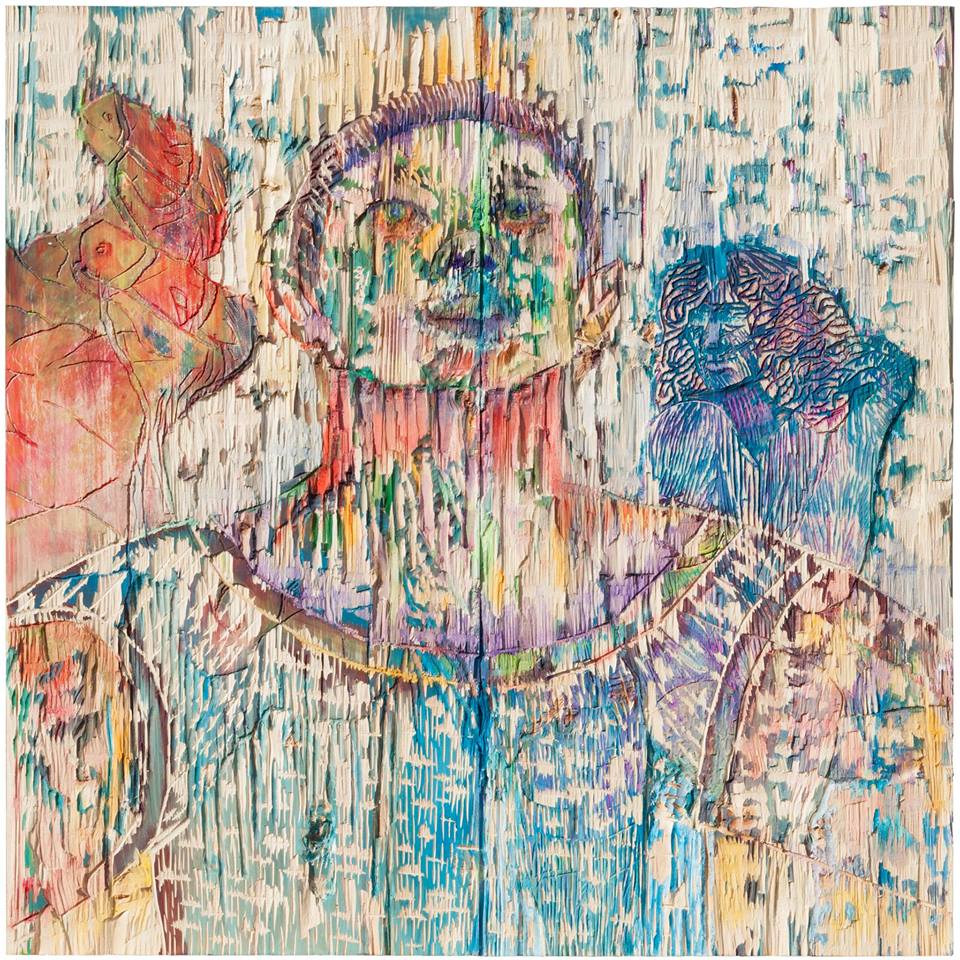 Værkerne, der er udarbejdet i træ, former en serie af portrætter, som er skabt ud fra en fortolkning og legemliggører en række universelle følelser: Tab, uløselige situationer, uskyld, skønhed, kødelighed – erfaringer, som reflekterer individets dybe menneskelighed.
Billeder fra gamle blade, kunstnerens egne foto fra Oaxaca i Mexico og historiske krigsbilleder har påvirket den tematiske ramme. Den mexicanske indflydelse ses også tydeligt i det intense farvevalg.
Vuorenmaa søger gennem arbejdet med træet at finde frem til dybere niveauer og nye former inden for maleriet. Hun forener således elementer fra det skulpturelle med maleriet, når hun bearbjeder træplader med mejsel og pensel og skaber tredimensionelle enheder, der fylder rummet.
Camilla Vuorenmaa (f.1979, Finland):
Vinder af den internationale solopris på Forårsudstillingen på Charlottenborg i 2013. Tidligere udstillingssteder tæller blandt andet Edsviks Konsthall i Sverige, Stockholm's Supermarket Art Fair og Young Art Biennale Hall i Helsinki.
Udstillingen er støttet af Finnish Art Agency, Finnish Cultural Foundation, Svenska Kulturfonden og Paulo Foundation.
For yderligere information, kontakt c4 projects på info@c4projects.dk eller Signe Aarestrup på 61335267.
//English//
Gladiator and other portraits
A solo exhibition by Camilla Vuorenmaa
Opening: Friday 5th of December 5 pm- 9 pm.
Exhibition Period: 6th. of December – 21st. of December
Opening hours: Thursday and Friday 3 pm- 6pm, Saturday-Sunday 2 pm – 5 pm.
At the opening weekend the opening hours will be extended to 6 pm both saturday and sunday, where the artist will also be present.
These woodworks form a series of portraits that are created by one's interpretation, but embody certain universal feelings. Losses, unresolvable situations, innocence, beauty, carnality – experiences reflecting individual's deep humanity.
Images from old magazines, private photos from Oaxaca (Mexico, 2012) and historical war photos have all fundamentally influenced the thematic framework. The Mexican influence is also vividly seen in the way the colours have been intensified in the later stages.
Working with wood has intensified Vuorenmaa's search to find deeper levels and forms within a painting. For the past four years she has worked on wood-based panels which she has altered in turns with brush and chisel. The shape and materials of her works have varied over the years, and she often aim to create three-dimensional entities that fill the space.
Camilla Vuorenmaa´s (b.1979, Finland) background:
International Solo Award, Spring Exhibition in Denmark 2012. Stina Krook Foundation Award in 2011. Vuorenmaa works have been seen in mm. Edsviks Konsthall in Sweden (2014), Stockholm's Supermarket Art Fair (2012), Young Art Biennale Hall (2005) in Helsinki and Tabor 09 show at Aleksis Kivi Museum in Nurmijärvi (2009). Upcoming exhibitions in 2015 are "Finnish contemporaries" at Bury Art Museum & Sculpture Centre, Manchester, Great Britain and the Salo Art Museum in Finland.
The exhibition has been supported by: Finnish Art Agency, Finnish Culture foundation, Paulo foundation, Svenska Kulturfonden